Step by Step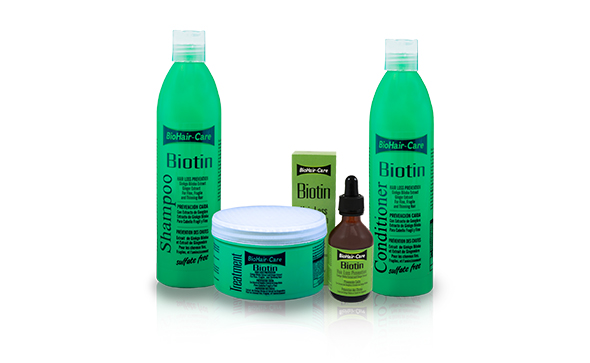 BioHair-Care Biotin
English
Apply a small amount on wet hair giving light massage and then rinse with plenty of water. Repeat if necessary. Recommended use Biotin Hair Loss Prevention Conditioner.
Spanish
Aplique una porcion sobre el cabello mojado dando ligeros y luego enjuague con suficiente agua. Repita si necesario. Se recomenda el uso del Biotin Hair loss Prevention Conditioner.
French
Appliquez une petite quantite sur les cheveux mouilles donnandt massage leger et puis rincer adondamment a leau. Repeter au besol. Appliquez et poi nosotro Biotin Hair Loss Prevention Conditionneur.
English
After shampoo, apply the conditioner portion distributed evenly, massages to achieve the necessary from root to tip,leave on for 3 to 5 minutes, then rinse with water and apply the Biotin Hair Loss Preventioin Treatment.
Spanish
Aplique una porcion sobre el cabello mojado, dejar actuar por 3 a 5 minutos y luego acclarar con abundante agua y proceder con el  Biotin Hair Loss Prevention Treatment  .
French
Doto lo shampoo, applicare la maschera Raddrizzatura e quindi distribute in modo uniforme dalla radice alla punta, lasciare agire per 3-5 minuti a poi rimuovere con acqua e poi nostro tattamento di Biotin Hair Loss Prevention Treatment.
English
Apply after hair  washed and towel dried. Massage Gently. Leave on for 5 to 10 minutes, and rinse with water. Recommended use the Biotin Hair Loss Prevention Liquid drop treatment
Spanish
Aplique despues de haber lavado el cabello y secado  con una toalla . Masajear por unos minutos suavemente y enjuague con abundante agua. Seque como acostumbra.
French
Appliquer après le lavage et le séchage de vos chevaux avec une serviette. Massez doucement pendant quelques minutes et rincer a I'eau. Sec comme d'habitude.